River Dunes is part of the 2013 Annapolis Boat Show!
Be sure to stop by Booth D-7 to learn more about the world-class River Dunes Marina and our waterfront living community. We will be part of the Powerboat Show from October 3-6, and the Sailboat Show from October 10-14.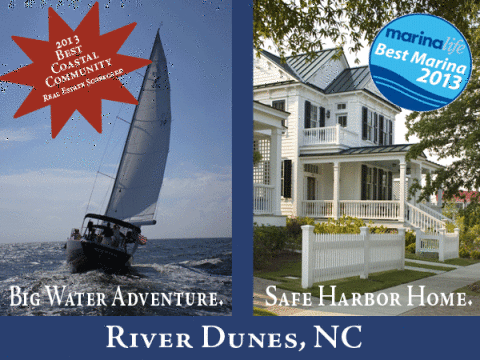 The River Dunes' Grace Harbor features a 400 Slip Protected State-of-the-Art Marina and Harbor Club with Fine & Casual Dining, Pool, Spas, Bikes, Kayaks, Paddleboards, Library & Fitness Center, Luxury Guest Boater Facilities with Steam Showers & Laundry and Harborside Guest Cottages available for nightly rental, and much, much more!
Don't forget to ask about our new homes and waterfront homesites!
River Dunes is based upon the tradition of the coastal maritime village. This vision evokes far more than a mere subdivision of property, it becomes the quest for a great community that fosters a sense of neighborhood and provides a place where generations can thrive and create memories together – a community that realizes the rewards of living at the water's edge and respects its demands for care in return. Click here for more information on River Dunes.